Super Eagles winger Ahmed Musa has revealed that he has been paid N5 million naira to the management of ASDC Academy in Abuja, as the players do not heard about the match winning bonus paid to them.
Corruption has begin to show fave in the grassroot football after Musa exposes ASDC Academy management having paid them match bonus  worth of N5,000,000 for their players but they do not give it to them.
The Score Nigeria reports that the Saudi Arabia based Ahmed Musa in his goal to encourage the talents in the grassroot not long ago promised the players of a certain ASDC Football Academy Abuja five million naira as match bonus. He remitted the fund after arriving the country in April but the academy management did not disclose the payment receipt to the players.
Out of curiosity and desperation, a player in the Academy bravely stood up and questioned Ahmed Musa about his monetary vow via Social Media.
"Senior man is your boys ASDC Academy in Abuja your have fulfill your promise by coming but we have not received the 5 million your promise to give us for winning the match?" smanh05 wrote on Twitter.
The Al-Nasar forward to further add to the allegations of corruption in Football in Nigeria replied the tweet stating clearly that he has paid the money to the academy management.
"Pls go and ask your management about the money, because i have pay them the money okay" Musa wrote on Twitter.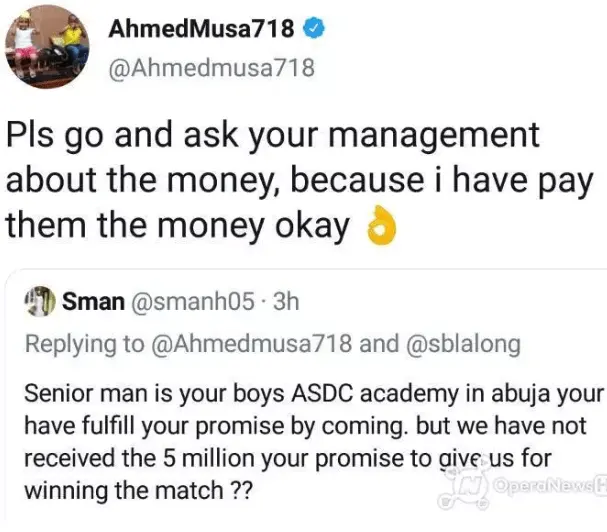 Musa 27, is the first Nigerian to score more than once in a FIFA World Cup match, after scoring twice against Argentina in the 2014 FIFA World Cup.
Musa is also the first Nigerian to score in two FIFA World Cup competitions, after scoring twice against Iceland in the group stage of the 2018 FIFA World Cup and Musa was a member of the Al-Nassr squad that won the Saudi Premier League and Saudi Super Cup , both in 2019