Former Super Eagles and Manchester United forward Odion Jude Ighalo put up a dramatic appearance at Shanghai Airport on Sunday, as he arrived with a protective face mask covering his face at Shanghai Airport on Sunday.
He arrived with a protective face mask covering his mouth and nose, in order to avoid contracting the prevalent coronavirus ailment that is currently afflicting China; with bystanders sure to hold that a lasting memory of his last day on Chinese soil.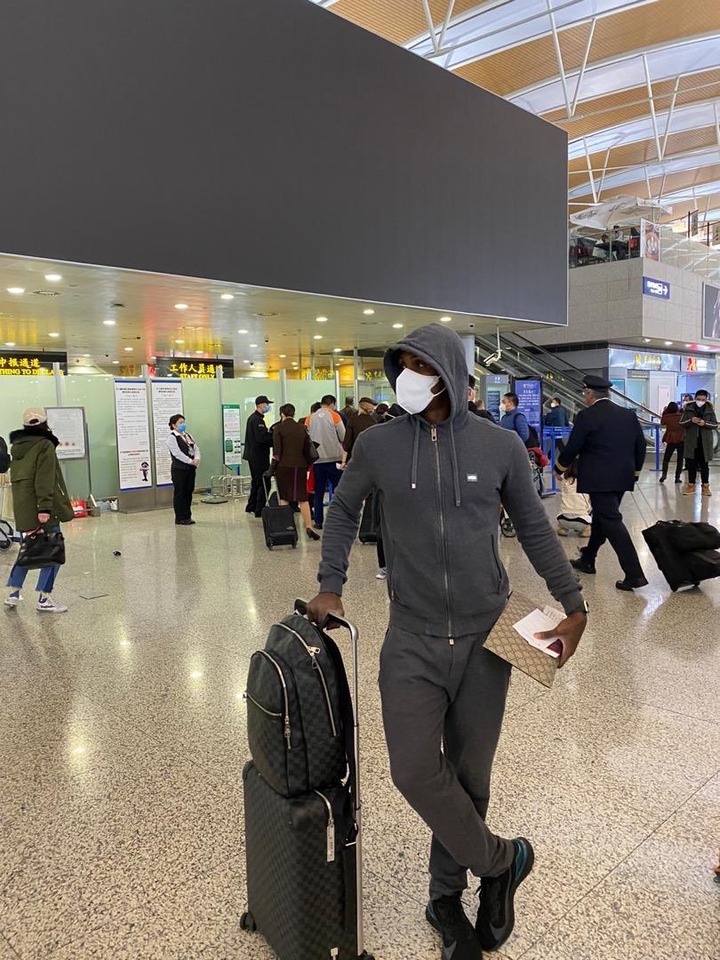 Ighalo before leaving Shanghai Airport
In spite of initial reports that Ighalo had been held back in Nigeria after the yuletide festivities and delayed returning to his parent club, Shanghai Greenland Shenhua due to the outbreak of coronavirus in The Oriental Nation, the former Super Eagles striker had already landed back at his base at the start of the year.
thescoreng learnt that the Chinese Super League (CSL) put on hold on account of worries over the likely continued spread of coronavirus and debilitating effects that could cause of football fans, media personnel, players, coaches and officials, Ighalo had to seek an alternative to staying idle during the period of the hiatus, before action resumes in the communist country.
Fortunately for him, there had been talk about a possible loan deal for him all along, with a long line of offers coming his way from Barcelona and Real Madrid of Spain, Inter Milan of Italy as well as the English Premier League quartet of Tottenham Hotspur, Manchester United, Newcastle United and his former club, Watford.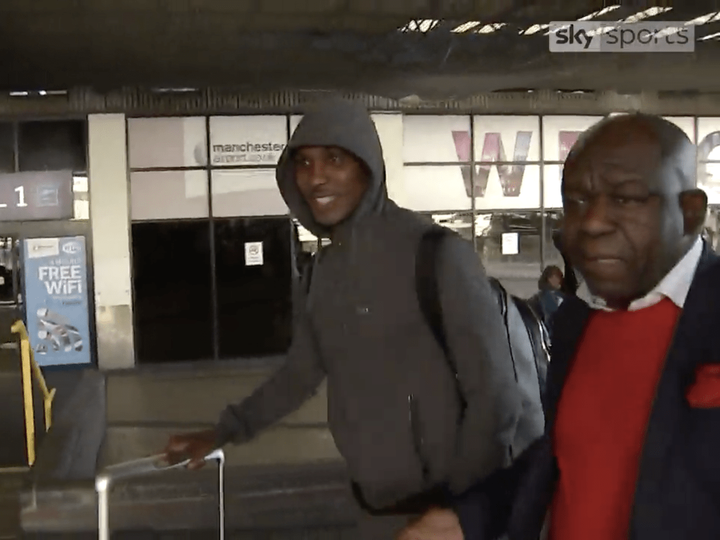 Ighalo (left) on arrival at Manchester Airport
It appeared no deal would come his way, though, as Shenhua insisted on keeping him for the start of the new season in China, only to have their plans altered by last week's suspension of the league, and it then became a race against time for Ighalo to get somewhere else to be in competitive form during the abeyance.
That paved way for a late rush around in search of concrete suitors that were still available, and his days back at Lyn Oslo of Norway now came to reward him, as Man United's current coach, Ole Gunnar Solskjaer, who hails from that Scandinavian country, knew about the striker during his early days in his homeland, while the star's agent, Emefie Atta Aneke is still based there.
Those connections provided the right link for Ighalo's last gasp recourse to a loan at Old Trafford eventually seeing the light of day, as Aneke still maintains close contacts with Solskjaer, and it was easy for the gaffer to put in a word to The Red Devils' chief executive, Ed Woodward to call the agent up on Friday, and they set the scheme in motion for the shock deal of the month.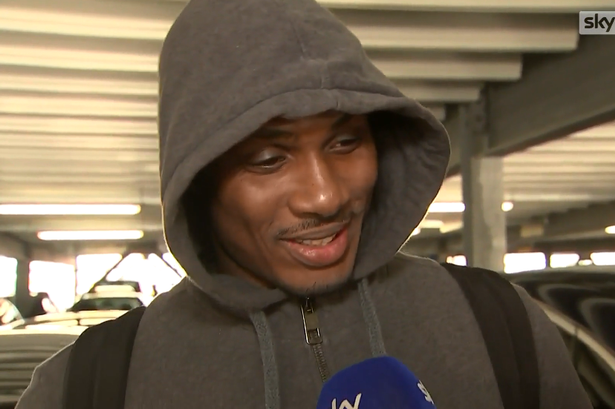 Ighalo during first interview in Manchester
With the loan agreement between United and Shenhua all done and dusted into the early hours of Saturday, it was left to Ighalo to make the trip to Manchester the following day, and what a dramatic approach he opted for, as he stepped into the airport all masked up, putting up a show in public to confirm that he was not in any way negligent with his health while in China.
He eventually had to embark on a long flight route that took him through Dubai in United Arab Emirates, and he headed out from China to the Middle East country late Saturday, to arrive early enough the following morning at his new base.
Ighalo landed in Dubai on Sunday morning ahead of his trip to Manchester, where he landed on Sunday morning, after which he disclosed that he will first take a rest all through the day and then meet with officials of his new club on Monday.
The 2019 Africa Cup of Nations highest goals scorer disclosed that he is eager to hit the ground running and start training with his colleagues immediately everything is sorted out in terms of paper work, allocation of a jersey number and formal unveiling, especially as the last time he played a competitive match was on December 6, 2019, against Shandong Luneng Taishan in the final of the Chinese FA Cup.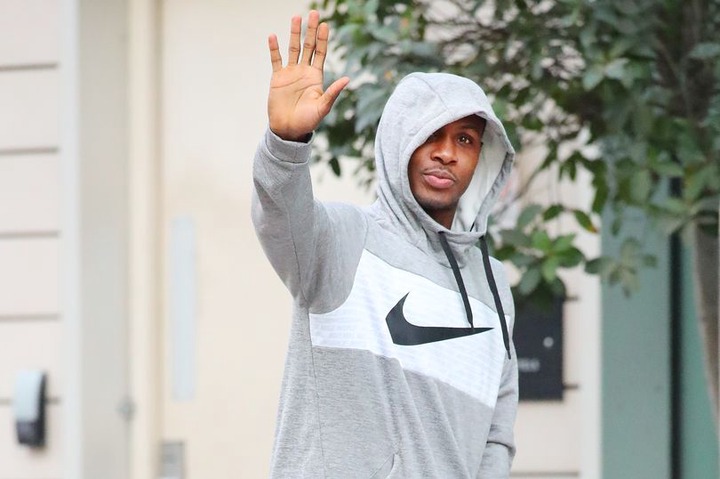 Ighalo greets fans at Lowry Hotel, Manchester on Monday
Nonetheless, a hint of out of Old Trafford revealed that the club's top brass did not insist on a medical test for Ighalo before agreeing to the loan deal with Shenhua, even overlooking the star's nearness to the source of coronavirus, as they had been assured by his parent club's medics that he is fit and has a personal physical trainer that has been keeping him in top shape.
The following morning, Ighalo was up early and spotted on the steps of Lowry Hotel, waving to fans and giving pleasantries to guests, as he prepared to step out for his official unveiling, with everyone noting that he was in high spirits, as he chatted over his dream move to Old Trafford.
Ahead of Ighalo's arrival at The Theater of Dreams on Sunday, United's manager, Ole Gunnar Solskjaer said he was relieved, thrilled and delighted to hook the former Eagles' striker ahead of other suitors, with the deal coming through just in time on transfer deadline day.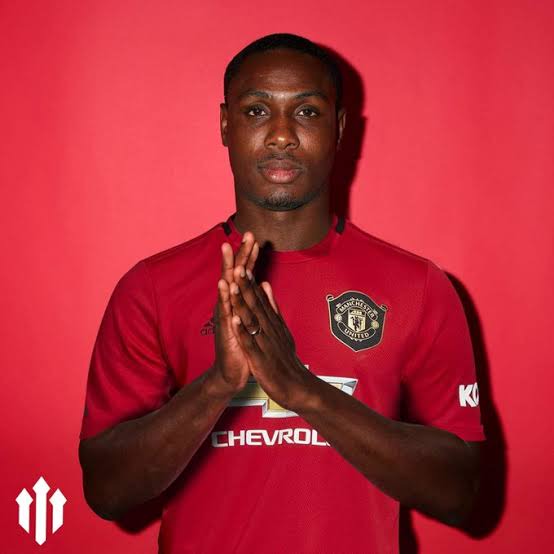 Ighalo gives thanks to God
The gaffer, who starred for United back in the days and was the hero of their UEFA Champions League winning feat of 1999 against Bayern Munich of Germany, added that he expects Ighalo to be a success at Old Trafford, considering that the new arrival is a fan of the club, has very good attitude, has lots of experience playing at the highest level and was top scorer at AFCON 2019.
Solskjaer said: "He's going to savour this, enjoy this and give absolutely everything for us. It was very important. We get an experienced goals scorer, top scorer in the 2019 Africa Cup of Nations in Egypt. He's a man with a big smile, a great personality and a big Manchester United fan."