According to the reports indicate that former Barcelona stars Ronaldinho and his brother have been released from Paraguayan jail after over a month behind bars.
The Score Nigeria learnt that after 32 days in prison, Ronaldinho and his brother have breathe the air of freedom partially after paying bail.
The duo will now remain under house arrest in their Paraguayan hotel.
Judge Gustavo Amarilla finally accepted bail on Tuesday after three previous request were rejected to review measures of the defense of the former player.
The two-time world footballer of the year and his brother Roberto Assis, however, will remain in police custody in the capital Asunción.
The lawyers of the former player of Grêmio , PSG , Barcelona , Milan, Flamengo , Atlético-MG and the Brazilian team presented the Hotel Palmaroga, in the historic center of the capital, as the place of house arrest.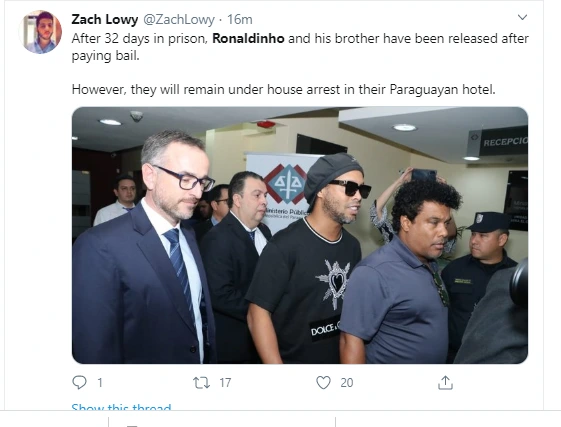 In addition, Sergio Queiroz and Adolfo Marin showed a deposit of US $ 1.6 million (R $ 8.37 million in current quotation) through a Ronaldinho account.
The public prosecutors present at the session accepted the conditions shown by the defenders, and the emergency judge, Gustavo Amarilla, gave a favorable decision to the five-time world champion.
The only request from the Tax Office, however, was that Ronaldinho and Roberto have permanent police custody at the hotel.