Mauricio Pochettino, Jay-Jay Okocha, Ronaldinho Stormed Paris Saint Germain Squad in 2001/02 Season. The Paris Saint Germain squad in the 2001/02 season is a prime example of this as Luis Fernandez's rabble of household names and misfits thrilled, yet ultimately underachieved by finishing fourth in Ligue 1 and crashing out of the UEFA Cup prematurely.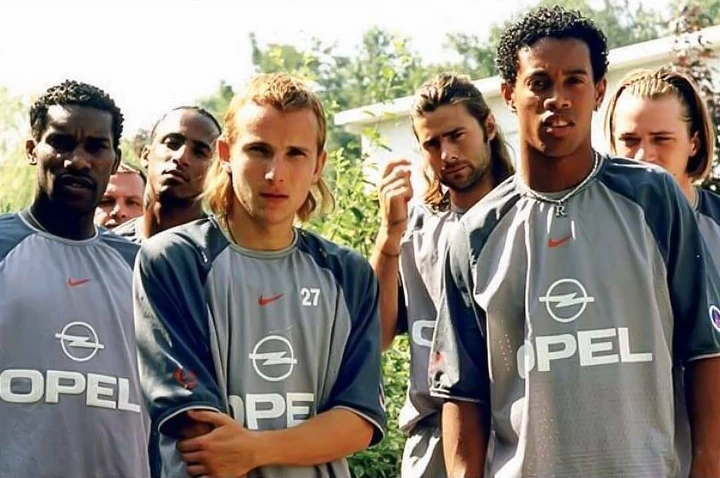 Here is what happened next to these PSG's players from the 2001/02 season.
Mauricio Pochettino
Poch played as a Centre-back for PSG and made 95 appearances for the club
He slotted seamlessly into the club's defence and securing a place in Argentina's 2002 World Cup squad off the back of his performances in Ligue 1. After a brief stint at PSG's Ligue 1 rivals Bordeaux, Pochettino returned to Espanyol, where he retired from playing.
Since then, Pochettino has become an extremely highly-rated manager thanks to successful spells in charge of Espanyol as well as Southampton. Most recently, he turned Tottenham Hotspur into Champions League runners-up before his dismissal from the north London club in November 2019
Okocha played as an attacking midfielder making 84 PSG appearances
Okocha spent four years with the PSG and scored 23 goals in 84 games before leaving to join Bolton Wanderers in 2002.
PSG made a huge statement of intent when they splashed out £14m to sign Okocha shortly after he had impressed for Nigeria at the 1998 World Cup, making him the most expensive African footballer of all-time.
Blessed with exceptional natural ability, Okocha spent four years in Paris but despite showing flashes of his genius he perhaps didn't have the impact expected of him upon his arrival.
Following the expiration of his contract, Okocha moved to Bolton in 2002. There he became a club legend and one of the Premier League's great entertainers.
Ronaldinho
Ronaldinho played as an attacking midfielder and recorded 76 PSG appearances
Paris was the first European stop in Ronaldinho's career as he joined them after bursting onto the scene with Gremio as well as the Brazilian national team as a teenager.
Although he made a slow start at PSG, Ronaldinho eventually became a resounding success, scoring 25 goals in 76 matches for the club across two seasons.
He became a world champion while contracted to PSG, playing a key role as Brazil lifted the 2002 World Cup and his form the following season convinced Barcelona to sign him.
Ronaldinho played a key role in re-establishing Barcelona as a major force domestically and continentally by winning two La Liga titles and a Champions League while he also won the Ballon d'Or in 2005. He finally retired from playing in early 2018 and things have become, well, interesting for him since then.